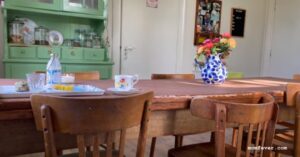 My morning coffee means a lot to me.
It's a moment of peace.
Of being quiet.
Of just being present.
My morning coffee
I start my day with a 45 minute run. Then I do a 10 minutes meditation while hula hooping. After that I work on my blogs.
My morning coffee break starts at 10 AM.
Every 10 minutes I pour myself another cup of coffee.
And I just sit there while listening to classical music.
And thinking and pondering….
This is my morning coffee moment
Do you have a daily moment where you just kind of stop and think and feel?